Last known position:
Lomma, Sweden
N 55 °40,55
E 13 ° 03,40'


Navigabamus.com
January 20th, 2006
Navigabamus (latin for "We sailed") might seem like an odd name for a journey that has hardly begun, a journey that will be our greatest so far in terms of risk, money spent and distance traveled on the surface of the earth. But time flies like the wind* and soon this journey will only exist as a memory in three brains and a hard drive full of photos. The plan is to return to Sweden sometime in June 2006, hopefully to a long and healthy life full of warm women, loving friends and families, and generous employers.
But if sailing has taught me one thing, it is that no matter how prepared you are and how detailed your plans are, things will not go accordingly. You are always in the hands of things you cannot control. Life is about grasping an opportunity as it passes, for it will never come again.
We don't know what awaits us on the Atlantic ocean nor exactly what life will be like when we come home. But if our lives turn pale and grey and if we die poor, lonely and sick, or even if we take our very last breath in a life raft on the Atlantic ocean, we will at least be able to say:
"Navigabamus – we sailed!"
Sincerly
Dan Roupe, Jonas Skarstam and Fredrik Fyhr
* And fruit flies like bananas
2013-06-26
See our new movie Hallberg-Rassy Monsun 31 riding the gale winds on the Atlantic Ocean. Atlantic Crossing in a Hallberg-Rassy Monsun 31
2013-02-02
Check out our movie Bahamaslife - cruising the Bahamas!
2013-02-02
See photos and read our story purchase of our Hallberg-Rassy Monsun 31 "Windalker"
2007-03-22
Our diary from the Atlantic crossing will be broadcasted in P3's program "Planet", saturdays 18.00-20.00. Stay tune!
2007-01-07
Photoalbum updated from our home comming to Lomma Port
2006-08-14
The movie Bahamaslife.mov now available for download, see Media
2006-07-10
Reached Lomma, Sweden from Falmouth, England
2006-06-30
Reached Falmouth, England from Horta, Azores
2006-06-19
Set sails towards Falmouth, England. Estimated day of arrival 1:st of July
2006-06-19
Second episode in P3's Transit brodcasted
2006-06-10
Reached Horta, The Azores, from St Martin after 24 days at sea
2006-05-29
First episode in P3's Transit brodcasted
2006-05-17
Set sails towards the Azores, estimated day of arrival 10:th of June
2006-05-06
Reached St Martin from British Virgin Islands
2006-04-29
Reached British Virgin Islands from Puerto Rico
2006-04-20
Reached Puerto Rico from Turks and Caicos
2006-04-10
Reached Turks and Caicos from Bahamas
2006-02-22
Reached Bahamas from West Palm Beach
2006-02-09
Windwalker is ours!
2006-01-26
Purchase of vessel Hallberg-Rassy Monsun 31 "Windwalker" ongoing
2005-11-25
The idea was born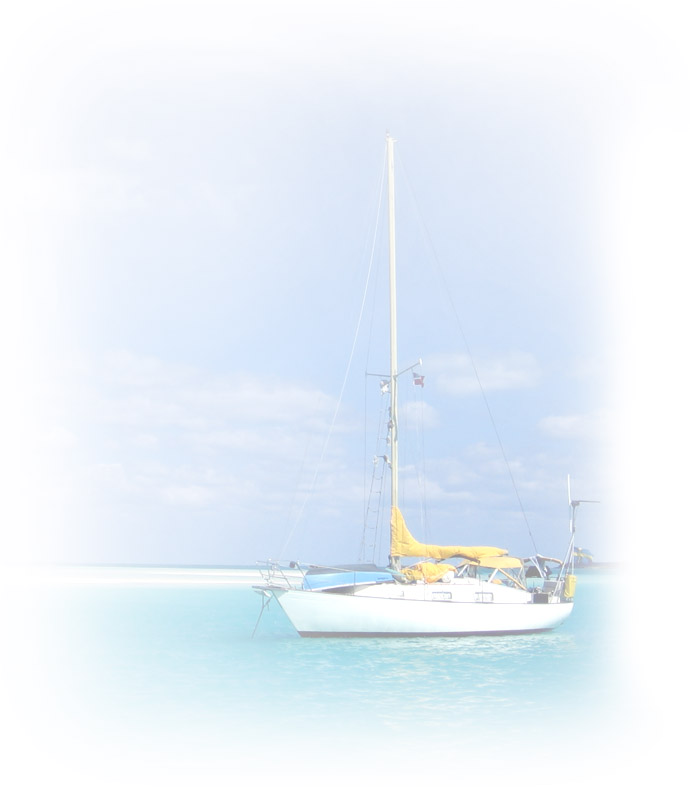 Sailing in the Bahamas!
Check out our movie "Bahamaslife". This is a story about how wonderful life is cruising around in the Bahamas archipelago. Here are sceens from the Abacos and Exumas, diving for Conch and more.